Archbishop Spalding Defeats McDonogh, 14-8, to win the MIAA "A" Conference Title
Last Updated – January 4, 2022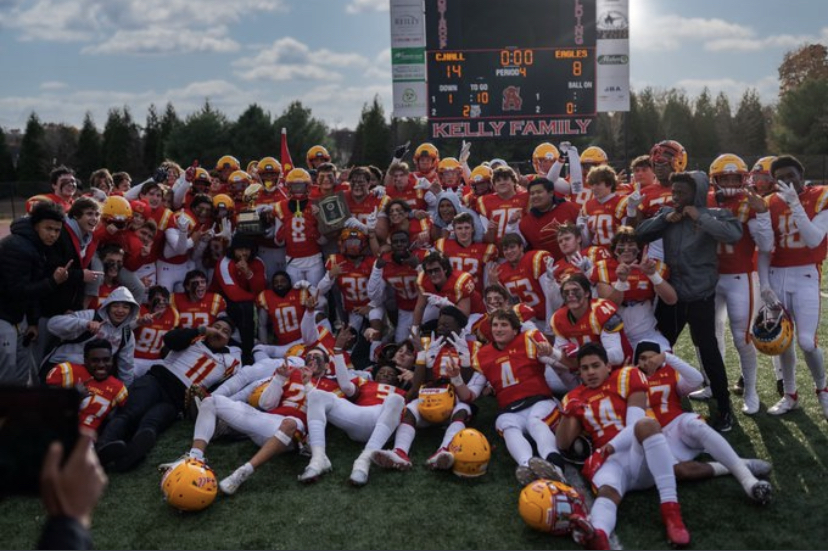 On November 20, Calvert Hall defeated McDonogh, 14-8, to win the MIAA "A" Conference title. Spalding quarterback Noah Brannock had a day with the help of wide receiver Donovan Lewis, putting two touchdown passes in the junior wide receiver's hands. Lewis had a total of 119 yards on those two crucial receptions of 83 and 36 yards.
"[Brannock] put his trust in me," the 5'8 receiver told the Baltimore Sun. "We preached 'finish' all week, and I wanted to make sure I did."
McDonough climbed back from a 14-0 hole with a safety and a fourth-quarter touchdown but missed the two-point conversion to leave the score at 14-8. The Eagles had one last chance, driving deep to the Calvert Hall 12-yard-line. On a 4th-and-1, senior linebacker Matt Conroy and junior defensive end Zyir Daniel sacked McDonough quarterback Preston Howard (University of Maryland commit) with five seconds remaining to preserve the win. Both defenders have been critical all year long. Conroy, a Shenandoah University commit, had 69 solo tackles and two sacks on the year. Daniel is the 8th-ranked defensive end in his class by MaxPreps.
It was a long way back for the 8-2 Cardinals, who were soundly defeated earlier in the year by Spaulding. McDonough defeated Spaulding 7-0 to make the final.
WMAR Championship Preview (includes an interview with McDonough's defensive end and Penn State commit Dani Dennis- Sutton)
Josh Ward Getting the Championship Trophy (video)
Calvert Hall Defeats McDonogh [The Baltimore Sun]
Concordia Prep defeats Loyola Blakefield, 14-5, to Win the MIAA "B" Conference Title