Who is Dani Dennis-Sutton?
Dani Dennis-Sutton is a 6-foot-5, 250-pound defensive end from McDonogh School, in Owings Mills, Maryland. He is a 2022 recruit and is committed to Penn State. Prior to his commitment, Dennis-Sutton had offers from the University of Georgia, the University of Alabama, and the University of Arkansas, three college football powerhouses. He is a 5-star recruit and was selected to the All-American Bowl, a football game with the top 100 recruits in the 2022 class.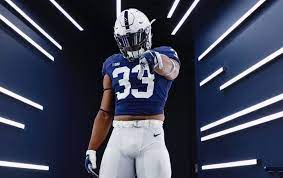 When asked about why he chose Penn State in an interview with Rivals, Dennis-Sutton described, "I trust their process, you know." They've been putting guys in the league and that's my ultimate goal." He described Penn's State's recruiting as being "consistent" and "loyal", as the school was in touch with him since his freshman year.
Dennis-Sutton elaborated that it was a good opportunity to be playing at Penn State with some of his former teammates, but described it as not being of the utmost importance. "At the end of the day, we have to do what's best for me," he said. "But, you know, like I said, it is cool to play with my former teammates [and] we have that connection and that bond as soon as we step on the field," he added.
In another interview with VSN, Dennis-Sutton described Georgia as being a target of interest before his commitment, describing it as a "close second."
In Dennis-Sutton's appearance in the All-American Bowl, he recorded a sack in the game, an impressive feat for a defensive player. The top-ranked football player in Maryland, Dennis-Sutton has a lot in store for the future at Penn State and beyond.
Dennis-Sutton is one of three 5-star prospects Penn State hopes can take them to the next level
Sports Illustrated talk about the impact Dennis-Sutton had in the All-American Bowl earlier this year